In this article we will talk about how to open Bank Account for Private Limited Company in India, a bank account for private limited company in India can be opened anywhere in India and authority for such vests with Directors of the Company for which Following procedure is required to be followed
Estimated Time Required to Open Bank Account in India 5 days
Explore Different Bank's as per requirements
Choosing of Bank in which you want to open a bank account is the first step for opening of new Bank account, for this you can get in touch with Bank by Searching Bank nearest to your office address or place of business, you can now put online request from Bank website and than Bank will designate you sales person, who will get in touch with you.
It is always advisable to get in touch with two or three bank for this process
Terms and Conditions for Current Bank Account
Once Sales person get in touch with you, you are required to let him know the important terms for maintaining Bank account of the Company
Following questions may be asked by you in this regard :
– Minimum Average Balance Requirement
– Cash Deposit Limit
– Internet Banking availability
– Mobile App Availability
– Inward Remittance procedure ( if your business receives foreign inward remittances )
-Outward Remittance procedure
-Online Fixed Deposit
– Premature of Fixed Deposit
-Relationship Manager and many other relevant questions relating to your business
Passing of Board Resolution for Opening of Bank Account in the Name of Company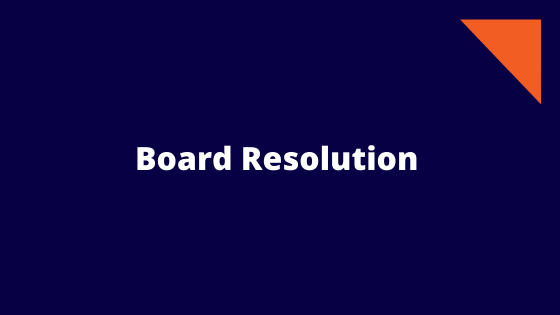 Once the proposed bank for opening of account is shortlisted than company is required to get approval through board resolution , Board Resolution can be either passed at duly held board meeting or by way of circulation. Board Resolution should provide all the details of Bank and Branch, Signatory or signing authority who will operate the operations of bank account and other related requirements.
Signing of Application and Documents for Opening of Bank Account
Once the resolution is passed by board of Directors of the Company for opening of Bank Account than authorised person will arrange and sign the necessary required documents for opening of Bank Account.
Following documents are required for opening of Bank Account:
1. Certificate of Incorporation of Company
2. Copy of MOA and AOA of Company
3. KYC of Directors of Company (PAN/Aadhar )
4. Duly Certified Board Resolution
5. Photo of Authorized Person
6. Mobile no and Email id of Authorized Person
All the documents are required to signed and stamped by authorized person
Submission of Account opening application
Once all the above formalities are completed you are now required to submit the account opening application to Bank in this regard, many banks provide designated sales persons in this regard , if you are in touch with the sales person , sales person will take application and required documents from you and submit the Bank for approval of Bank account